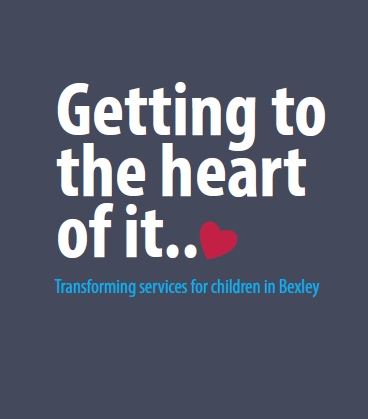 gETTING TO THE HEART OF IT
curated by jacky tiotto and dawn reeves
This book of true stories chart the journey of Bexley's children's services from inadequate to a service that Ofsted has rated as outstanding; an invitation to look behind the scenes and see what life is really like for people involved in the system.
The collection is an innovative way to support learning for anyone who wants to make a difference to the lives of children and families. The stories don't shy away from the difficult realities of life - sharing hopes and fears as well as challenges. The stories are amazing – warm, serious, funny and wise, illustrating the commitment, hard work, creativity and passion shown in Bexley.
They get to the heart of what makes the difference.
TOWN HALL - Stories about buildings, people and power
CURATED BY DAWN REEVES + FRAN cOLLINGHAM
Town halls, council houses and civic centres are the most visible symbol of local democracy in our towns and cities. Whether they're grand Victorian edifices or brash 70s redbrick blocks, they occupy a unique position in the fabric of a place. This book explores these buildings and their past, present and possible futures – told by the people who work in them, care about them or understand the importance of significant buildings in towns and cities.
32 stories are united by a common thread. They all show the distinctiveness and beauty, the guts and the occasional glory. There are so many more stories to tell.
Published November 2018.
"This book celebrates our great municipal buildings - the good, the bad and the ugly - and invites people to look at them and their councils afresh." - Sir Michael Quicke, of CCLA
#townhallbook
WE KNOW WHAT WE ARE
dAWN rEEVES
When a woman takes on the vested interests in politics and football, a city is forced to take sides. We Know What We Are is a gritty contemporary political thriller, with a strong female protagonist who battles corruption, power and prejudice in a quest for a fairer society. It's set in a Midlands city.
A girl searches for her missing brother, a council leader fights to hold on to her principles and a chief executive battles to hold back the tide of cuts. Over them all looms a threatened football club and the sinister shadow of its chairman. As identities shift and allegiances are tested, how much will each of them risk to save the city, the club – and themselves?
The novel explores how our sense of ourselves affects our ability to make change, to determine the future for ourselves.
Published 2018.
THIS LEADER CAN…MAKE A DIFFERENCE ON EQUALITIES
CURATED BY DAWN REEVES + FRAN cOLLINGHAM
holding up the mirror
commissioned by the society of local authority chief executives
True stories about diversity and leadership in public service.
Empower yourself and others, energise your organisation and engage with diverse communities to meet their needs. These powerful and compelling personal stories show how leaders are making a difference, and where we still need to shift mindsets to achieve a step change on equalities and diversity.
Published 2018.
Truth to power. Reading the future. London Bridge. Trans community. Marginal gain. Pub yoga. Shopping with mum. X marks the spot. Flitting. Making money. True stories about public service in a post-truth world.
The stories we tell about ourselves, our work and the lives we're trying to change are more important today than ever before.
In this challenging collection of short, short stories rising stars in local government, senior managers and frontline workers share their hopes, fears and ideas about the future of public service and the realities of working in a sector that's facing new uncertainties every day. These are true stories – imaginative, innovative, celebratory, pragmatic and stoical – all with an important message about holding up the mirror to the way we are now so we can change the future for the better.
Published November 2017.
WALK TALL - BEING A 21ST CENTURY PUBLIC SERVANT
edited by dAWN rEEVES
Walk Tall - Being a 21st Century Public Servant is an inspiring book that celebrates public service and shows the way ahead. Featuring 65 public servants from 25 organisations, the book is an intriguing mix of stories, fact and fiction about the real challenges faced by public servants in the UK. It shows how people are thinking and resolving difficult issues and sets out the characteristics that we need in future to deliver for communities everywhere.

Commissioned by the Local Government Association, The Society of Local Authority Chief Executives and, The Public Sector People Managers Association.
Published July 2016.
making our mark
edited by dawn reeves
International student stories, first person and fiction. Commissioned by Professor Judith Burnett, Pro Vice-Chancellor University of Greenwich.
Making Our Mark The world of work is a place where we play out the stories of our lives - somewhere we travel through uncharted lands, experience trials and face adversity, where we learn and grow, realise hopes and dreams. As part of its programme to prepare students for the world beyond education, the University of Greenwich ran an innovative creative project that asked students to share their experiences of work. The result is Making Our Mark - an invaluable resource for the university, which will help it support future students, and a superb showcase for current students.
Published May 2015.
change the ending
CURATED BY dAWN rEEVES
What can fiction offer the public sector? A new perspective? An alternative way of working? Inspiration for the future?
With 42 contributors, many working at a senior level in the public sector, the 350-word stories in this stimulating volume cover topics ranging from financial crisis, immigration and outsourcing, to planning, environmental protection and mobile libraries, by way of superheroes and bees – but all grapple with the complexities of the choices currently facing local government and, crucially, seek to provide alternative scenarios for the future.
This is a deliberately and deeply unusual book. It is a collection with a difference. These are stories that matter.
Published 2014.
When a girl's body is dumped in a bin, a city is forced to explore the boundaries of private interest and public good. Hard Change is a contemporary town hall thriller set in a Midlands city with an alcohol problem. The girl's discarded body forces a council officer, a policewoman and an NHS trust manager to get out from behind their desks and make choices. Personal or political, public or private, professional or pragmatic, they must make those choices alone - but can they act collectively to do the right thing and prevent another murder?
Published 2012.
Fans of Dawn Reeves' thriller HARD CHANGE include Labour Party leader Jeremy Corbyn ("great descriptions of people and power") and Erin Kelly, author of THE POISON TREE, which became an ITV series, and of the novel adaptation of the hit drama BROADCHURCH ("gritty, wise").
BOLDLY AND RIGHTLY: STORIES OF PUBLIC SERVICE IN THE LONDON BOROUGH OF BEXLEY
beth vella, jemma goode + dAWN rEEVES
In this inspiring collection of micro-stories public servants share the challenges they face, their proudest moments, hopes, fears and ideas for the future. In an environment where all Councils face uncertainty and reducing resources, these stories illustrate the complex realities of working in the public sector and show the positive impact that Council staff have on the communities and the Borough.
These are true stories – imaginative, innovative, celebratory, pragmatic and passionate – all with an important message about public service in Bexley. This is how we are now and also what we want to see more of in future.